Truth be told, the DJ Entertainment you select will have a DIRECT impact on how special your reception turns out and how much FUN your guests WILL have.
"Dear Mike, What can I say except that you exceeded my expectations. My family, friends, and guests have had nothing but wonderful and positive comments about you and your services! We would recommend you to anyone! Thank you so much for allowing me to use my ideas for mine and Jay's Wedding. You made me cry, you made me laugh, but most importantly you got my husband out on the dance floor! You are the man!! I respect you and I respect your work. You were so easy to talk to and to bounce ideas off of, and you gave me one less thing to worry about on my wedding ~ I am forever in your debt! Once again, thank you for everything. It was a pleasure to work with you! If I am ever in need of a DJ - you are at the top of my list! Sincerely, Jillian"
(Wedding held at Daniel Stowe Botanical Gardens)

For Wedding Music, Click Here
Want to see Samples of Actual Itineraries from
Weddings I have Done? Click Here
Your wedding day will be one of the most significant moments in your life. This unique day will be forever etched in your mind. It is truly a rare and special day, because your family and friends will be there to share it with you. It will be the day you say, "I love you" and mean it forever.
The Wedding Ceremony itself is the foundation, the basis for your life-long commitment. The Wedding Reception is the direct and immediate CELEBRATION of that ceremony. The location, food, cake, photographer, decorator, limo, flowers, and so on...combined make up the "body" of your reception. More important though, the entertainment will be the ESSENCE of your reception.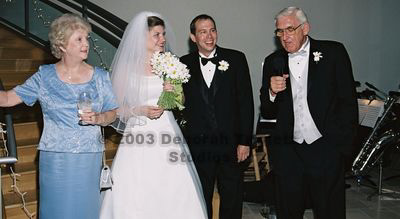 Think about it. The food can be delicious. The cake can be exquisite. The flowers can be bright and festive. The facility can be warm and friendly. BUT, if your DJ is "unacceptable", there is little chance to salvage the reception. This is a one-time thing. There is no turning back the clock.
There's the Bridal Party Introduction, your First Dance as Husband and Wife, the Bride and Father Dance, the Groom and Mother Dance, the Bridal Party Dance, the Toast, Special Announcements and Dedications, the Cake Cutting, the Bouquet & Garter Toss, and finally DANCING. Will the DJ you hire be organized, coordinate the appropriate music for your traditions, play songs your guests will ENJOY dancing to, make sure nothing gets left out and that everything happens in the right order? The last thing you want is a DJ who can't coordinate and elegantly guide your reception from start to finish.
The cost of entertainment at your reception is only a small portion of your overall budget. According to Modern Bride Magazine. Only 5% of your overall budget will be spent on entertainment. Over twice as many guests will remember the performance of your DJ, more than anything else at your reception. What's the bottom line? When you're spending thousands of dollars on a once-in-a-lifetime event, does it make sense to save a few dollars by trying to plan everything by yourself, coordinating everything by yourself, and hiring second-rate entertainment?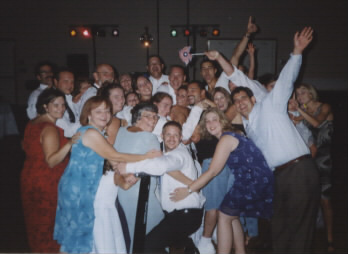 Home | Bio | FAQs | Weddings | References | Contact Info | Events | Prices | Music
Equipment | Gallery | Availability | Links | Testimonials | Store | Resources