Daddy Daughter Dances, Sock Hops, Fall Festivals, End of the Year Bashes, Beach & Luau Parties, and much more!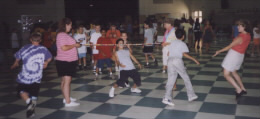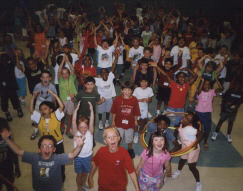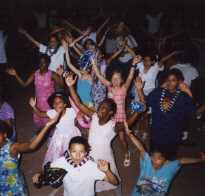 University Meadows, Huntersville, Weddington, Cotswald, Reedy Creek, Villa Heights, and Blythe Elementary to just name a few. You are welcome to contact any of these schools I have performed at. I thoroughly enjoy children and can relate quite well to them. Kids respond very positively to an adult who is goofy, fun, respectful, and plain ol' silly!
Within the last couple of years, I have experienced a pleasant increase in Daddy Daughter (or Father Daughter) Dances. The little girls tend to be out there dancing and having a good time, while the dads sit back and enjoy the dance. Well, when I am performing, everyone is dancing, including the Dads! I am pretty good at motivating the Dads (without being obnoxious) to get on the dance floor, especially when I play "their" songs. The girls can never get enough of the limbo stick or hula hoops, which is just a tiny sample of the games and contests I can orchestrate. Need help with a theme for your dance or event? No problem. I have done so many events, I am bound to give you an idea or two that you will like. Plus, I can affordably set you up with great props and stand-ups to go with your theme! And yes, I can bring my bubble machine, which tends to be a VERY popular attraction with the kids. Children are our future.
Home | Bio | FAQs | Weddings | References | Contact Info | Events | Prices | Music
Equipment | Gallery | Availability | Links | Testimonials | Store | Resources