Youth Events, Teen Socials, Single Mixers, Picnics,
Bar-B-Qs, Spiritual Development, Christ-Oriented
Team Building, and Just Good, Clean FUN!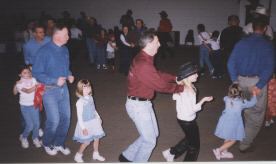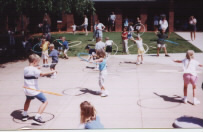 My spirituality is a big part of my life and my business. I was the Youth Minister at St. Thomas Aquinas for about two years. I have participated in numerous ministries and try to help out when I can. My two years in the RCIA (Rite of Christian Initiation for Adults) ministry gave me greater experience in leading small groups and guiding participants through exercises that challenged the mind and the soul. I have performed for the Diocesan Youth Conference (DYC) at Camp Thunderbird, St. John Neumann, St. Gabriel's, Christ Lutheran Church, Knights of Columbus, Messiah Lutheran Church... to name just a few.
You, the client, can censor the music selection as much or as little as you want. You can choose to have activities and contests, instead of dancing. Just ask any of my priests, and they'll give you a very positive recommendation of my services...plus, their priests, so they have to tell the truth! LOL!
Home | Bio | FAQs | Weddings | References | Contact Info | Events | Prices | Music
Equipment | Gallery | Availability | Links | Testimonials | Store | Resources